About Molded Diaphragms
About Molded Diaphragms
Molded Diaphragms... Ideal Solution to Tough Sealing Problems
Molded Elastomeric Diaphragms are tough, versatile dynamic seals that eliminate virtually all of the limitations associated with other sealing methods like U-cups, O-rings, metal bellows and flat die-cut diaphragms. They can withstand pressures up to 6,000 psi (4.137 bar) over a temperature range from -76°F to 626°F (-60°C to 330°C). We currently manufacture diaphragms ranging in size from 0.1969" to 29.1339" (5 mm to 740 mm).
DiaCom is dedicated to providing diaphragm seals that enhance the performance and appeal of your product at a price point that helps you compete. Our engineering department stands ready to provide product design support that is both timely and comprehensive.
Principal Diaphragm Types
Molded Diaphragm Advantages:
Best No Leak Seal
No Lubrication
Low Friction
Low Hysteresis
No Spring Rate
No Break Away Friction
Long Cycle Life
Effective In Harsh Environments
Constant Effective Pressure Area
Low Assembly/Hardware Costs
Exceptional Sensitivity
Ability to Operate Under Severe Pressure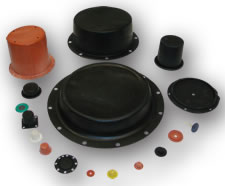 Have Questions?